Frank Wilson is a member of the International Guild Of Realism. He is one of only five artists to be inducted into the Grumbacher Artists Hall Of Fame.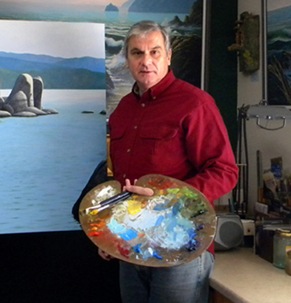 Frank's formal art education took place at the School of Practical Art and the Art Institute of Boston with further studies under Marko Lolo Marchi and Steven Yankopolis. Since finishing his formal art education in 1971 Frank has been full time professional artist.

Over the years, the artist has won many awards for his paintings and sculptures. In September of 2005 he was awarded the City of Chico, California, COBA "Peoples Choice Award" and a commission for a large outdoor mural. By invitation, his work has been featured in the New York State Museum, and in art galleries in New England, Virginia, North Carolina and California as well as in Zurich and Geneva, Switzerland.

On October 9, 1998 he was a featured artist on ABC's nationally televised "Good Morning America" show.

A prolific painter, Wilson has created over 4,000 highly detailed works in oils and watercolors since 1995 in addition to hundreds of sculptures. His paintings are in private and corporate art collections in dozens of countries on four continents.

The wilds of nature, in all it's diversity, is the common denominator for this multi-talented artist. The hills and mountains in the wilderness areas of Northern New England and Northern California are the inspiration for his widely ranging work in water media and in oils. Hiking by the light of the full moon has inspired Frank to create a series of "nocturnal" watercolors. Climbing in the high country, the artist has witnessed the light of dawn and dusk and translated those moments into dramatic paintings. These unique watercolor and gouache paintings capture the magic of a moonlit winter's evening or a mountain sunset. Sunny days or violent storms, clouds play an important role in many of his landscapes.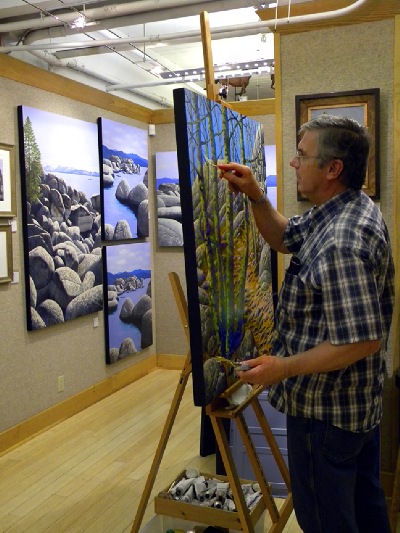 Wilson also paints in oils which he prefers to emphasize the atmospheric quality of mountain vistas and the winding trails he loves to hike. Still-life painting fills in those times when the artist cannot venture into the wilds. Wilson is known for his "landscape portraits" of well known natural beauty spots and detailed paintings of wildlife. His wildlife art has been exhibited in many of the major Eastern Wildlife Art Shows. Two of his wildlife paintings were published in Canada as limited edition prints of six thousand each which sold out soon after publication.

Frank Wilson has always had a deep appreciation for natural beauty and a reverence for the natural world. His passion is evident in each of his works, whether it be a small gouache study an oil painting or a large mural.



"My paintings spring from a life long involvement with the wilderness areas of Northern New England and in Northern California. From an early age, I combined my passion for the wilds of nature with my art. This passion has greatly influenced the academic and professional directions I have taken in life, including where I chose to make my home, from living right on the Atlantic Ocean to moving to the foothills of the Green Mountains of Vermont and then to the foothills of the Sierra Nevada Mountains in Northern California as of 2002.

When hiking and rock climbing in the high country, I look for the immense power and drama inherent in the untamed landscape. That is what I seek to portray in my art. Clouds have always intrigued me with their contribution to the spiritual and emotional impact of a wilderness scene and I try to incorporate those values in my paintings. In my work, you will not find not much man made impact on the landscape, other than a hiking trail or back country road. I have always sought to capture the unspoiled and pristine vistas that are rapidly vanishing in our world.

Throughout my career, I have made a conscious choice to paint wild, beautiful, natural, and inspiring landscapes instead of the "dark themes" that I see so often in exhibitions of "cutting edge" art.

I take pride in the craftsmanship of my art as well, using only the finest archival materials in the paintings and in the framing."


2019 Awarded a large mural commission in collaboration with artist Ted Hanson by the Oroville Arts Council of Oroville, California.

2013 Third Place Award in the Turner Colour Works of Japan International Gouache Painting Competition

2013 Honorable Mention Award in the Turner Colour Works of Japan International Gouache Painting Competition

2012 Two Honorable Mentions in the Turner Colour Works of Japan International Gouache Painting Competition

2010 First Place Winner in the Turner Colour Works of Japan International Gouache Painting Competition

2010 Honorable Mention in the Turner Colour Works of Japan International Gouache Painting Competition

2008 Award of Artistic Excellence

2005 Winner, Peoples Choice Award ~ City of Chico, CA COBA 2005

2005 Recipient of an Outdoor Mural Commission for the City of Chico California

2005 Recipient of two Outdoor Mural Commissions for Enloe Hospital ~ City of Chico California

1995 1st Place Sculpture, Helen Day Art Center, Stowe, VT

*First Fine Art awards were in 1964 while a freshman in High School

*1964 "BEST OF NEW ENGLAND" Scholastic Art Award
*1964 Blue Ribbon 1st place in Boston art exhibition for all five New England States
*1964 Gold Medal "Best in Show" in Boston art exhibition for all five New England States
*Numerous awards followed in local and regional art competitions. Commissions came in from many sources.


Frank Wilson was a Featured Artist on ABC's nationally televised "Good Morning America" show aired October 9th, 1998

CBS Action News featured his work in this broadcast that aired on January 23, 2009 "ART IN THE DARK" ~ A Paradise artist with stars in his eyes is making his mark all over the world."

Selected for the City of Chico's COBA Art Board Project for 2004 & 2005

Owner of the "Tradewinds Gallery", East Gloucester, Massachusetts 1971 to 1973


Chris Wassam Owner, Custom Faux Designs

"Frank has a very unique and compelling style with a wonderful grasp of light and color. From realism to impressionistic renderings, his images capture a beautiful sense of light, shadow, and perspective. As a professional artist I highly recommend Frank for any artistic project."

Mark Garkow Owner, Wild Heart Creations

"Frank has superior painting and creative artistic skills which have enabled him to produce paintings and murals that stand alone in their level of excellence. His paintings evoke deep sence of serenity and even awe."

S. David White Electro-mechanical Technologist

"I have grown to respect Frank Wilson as a very unique, talented, and accomplished artist. Anyone that explores the extent of his work will realize the broad scope of his skills. His specialty in capturing realism and bringing expressive color, shape, and light to the canvas will evoke strong and pleasing emotions. His starscape paintings visible in the dark are truly remarkable and unparalleled.

Frank is also a pleasant, compasionate, and very trustworthy person. Each and every time I have interfaced with him I have felt a genuine friendship and humble willingness to share the human experience."

Jim Allmon
Founder of Gallery On The Green, Woodstock Vermont and Gallery On Merchant's Square Williamsburg, Virginia. Former Director of River District Arts in Sperryville, VA .

"Frank Wilson is a talented artist, professional business person and a genuine individual.

As owner of Gallery On The Green, I have represented his original paintings for more than twenty years. He has always been a top selling artist for us and a favorite among collectors.

He and his wife, Toni, are very hard working and dedicated to furthering Frank's art career. As a member of the International Guild Of Realism, Frank has earned well deserved accolades for his art. He is a very versatile artist. He paints in both oil and gouache. He creates large murals and illusions. He sculpts in clay.

Whatever Frank puts his mind to, he master. He is a consummate professional. If you are a gallery owner who is considering representing him, or a collector who is considering him for a commission you have in mind, he will exceed your expectations."




If you are moved or touched by the artwork of Frank Wilson you can show your appreciation by making a voluntary donation in any amount to enable the artist to continue with his life's work. Just click on the donate button and enter your information on the SLL secure PayPal website. Thank you for your patronage!