I accept commissions and design large canvas and hardboard panel murals, up to 4 x 8 feet, for homes, offices and commercial spaces. My murals are painted with quality archival materials that will last generations. Any painting that you see on this web site can be done as a canvas or hardboard wall mural in your home or office. Wall murals that are painted on large artist's canvas can be shipped anywhere in the world.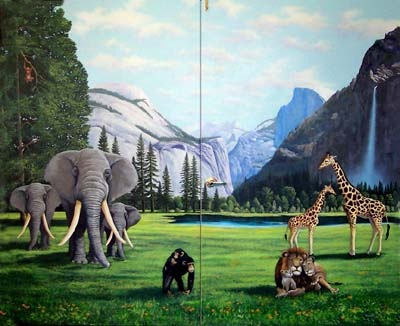 "Yosemite Dreams" is a mural painted on two large doors in a children's playroom. The size is eight feet wide and 80" tall.

The children love their mural and show it off to all visitors, they have even given each of the animals a name! It is painted in a highly realistic style.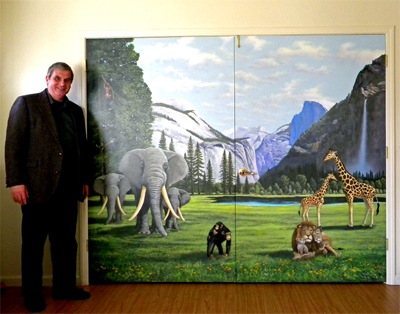 This mural was designed so that the children will never outgrow it. So very often, I'm contacted by parents who want a "cartoonish" type of mural done in their child's room. It is my belief that just as very young children can appreciate Great Classical Music (in addition to nursery rhymes) they can also appreciate good fine art. A mural is not something that you want your child to outgrow in just a few years. I speak from personal experience, the "cowboy" wall paper that I loved at age 10 became a total embarrassment to me by age 12! I design and paint murals that children will be proud to show to their friends well into their college years.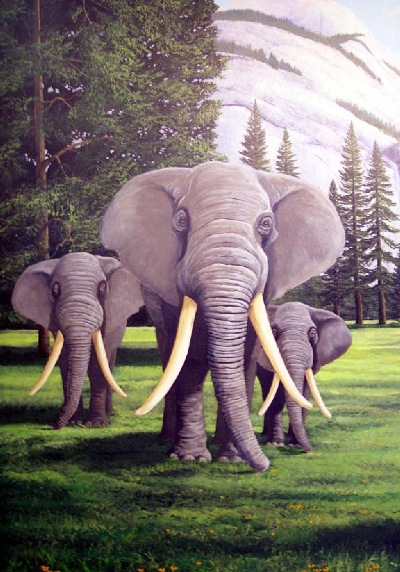 Here is a close up detail of the family of elephants in the "Yosemite Dreams" mural. The animals were designed to reflect a family setting, at peace with each other and with other species, all within the breathtaking Yosemite Valley in Yosemite National Park. Truly a dream, hence the name of the mural, "Yosemite Dreams" by your "Painter Of Dreams"™, ~ Frank Wilson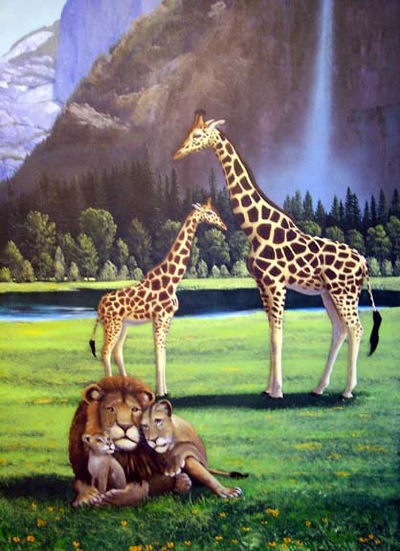 Here is a close up detail of the family the giraffes with the lion family in the "Yosemite Dreams" mural.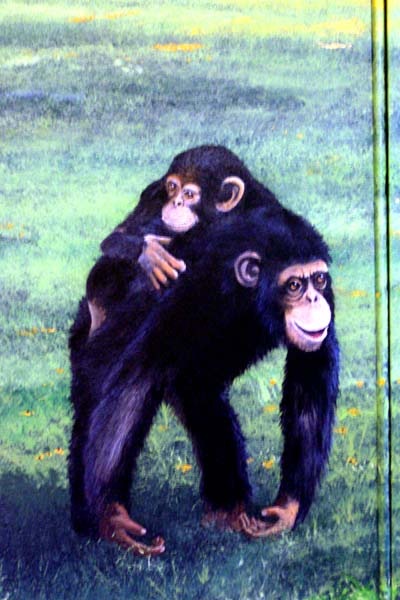 Who would not be amused by a mother chimpanzee carrying her youngster on her back? The seam between the two doors is clearly seen in this photo of the mural "Yosemite Dreams".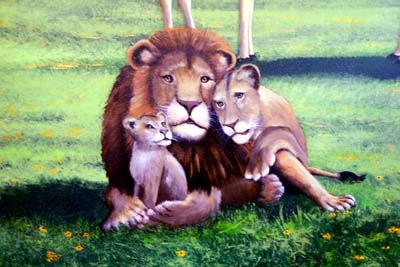 This is a close up detail of the family of lions on the right side of the "Yosemite Dreams" mural. The entire mural promotes family love and affection through the use of animal imagery.

This is the advantage of having a skilled artist design a custom mural as opposed to buying "wall paper murals" .... YOUR ideas and values can be designed into a custom mural.

To commission a canvas or hardboard mural for your home or office see the "Commissions" page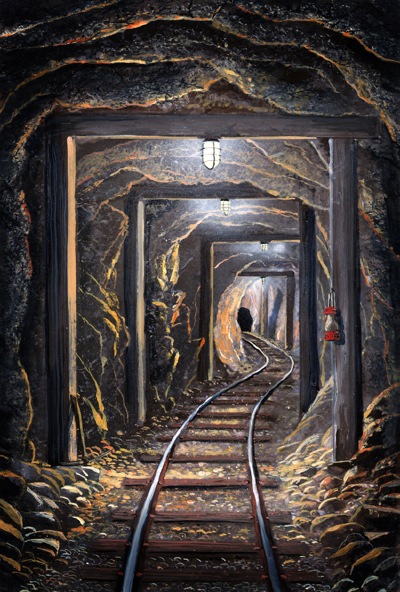 MINE SHAFT MURAL

48 x 96 inches

This mural was custom painted on a hardboard panel and mounted at the end of a hallway to achieve a most unusual illusion.

This mural is also the front cover illustration of a middle school mystery novel, "Coyote-meeter's Abyss", by Robert L. Hunton that will be published this summer (2014)and will be available at Open Books Press Direct, Barnes & Noble Booksellers, Amazon.com, and at all Independent Book stores.

If you wish to license any image on this website for publication in print or on the web please contact me for rates and licensing information.



| | |
| --- | --- |
| | |
| | I painted murals on all four floors of this Holiday Inn Express & Suites in Webster, Texas. |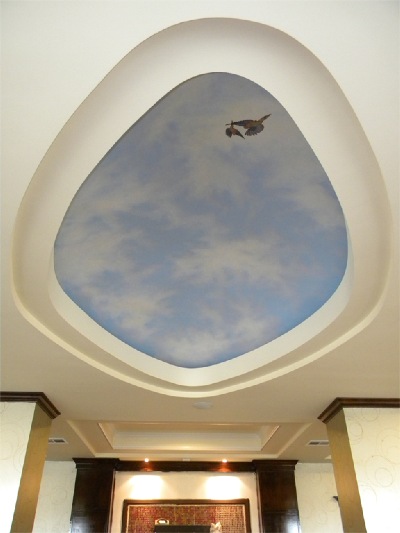 This is a "Double Illusion" Sky mural on the ceiling of the dining area of the Holiday Inn Express in Webster, Texas.

The soft ethereal clouds give a light, airiness to the dining area room.

Two types of lighting, a white light and a black light, in the recessed area gives five lighting combinations to this mural. The stars and Milky Way appear when the room is darkened or the UV lighting is activated!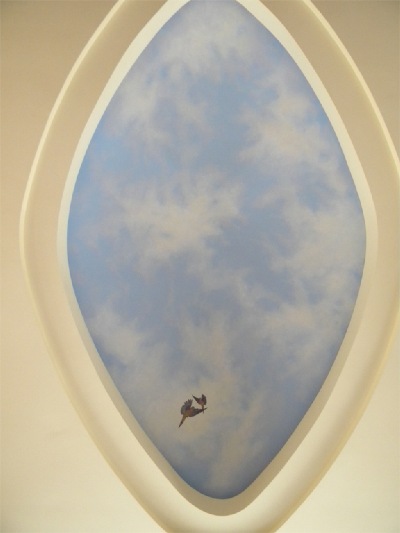 Here is another view of the Sky Dome looking straight up into it. Note the two Mourning Doves in flight. The doves have become a "signature" addition to many of my "Double Illusion" day and night sky murals.

In the Holiday inn Express King Suites the ceilings look normal with daylight coming in through the window. The same ceiling at night transforms to a view of the starry heavens. The major Constellations can be easily identified along with the majestic Milky Way. This incredible illusion creates a beautiful, stress-relieving ambience for the guests in these suites. It also provides the perfect setting for conversation and intmacy. See the "Night Illusions" page for more examples of my glowing "Art In The Dark".

Hotels, Resorts, Spas, B&B's can contact me for information and rates on having this wonderful amenity for their guests. Homeowners can also have this in their homes, and home theaters!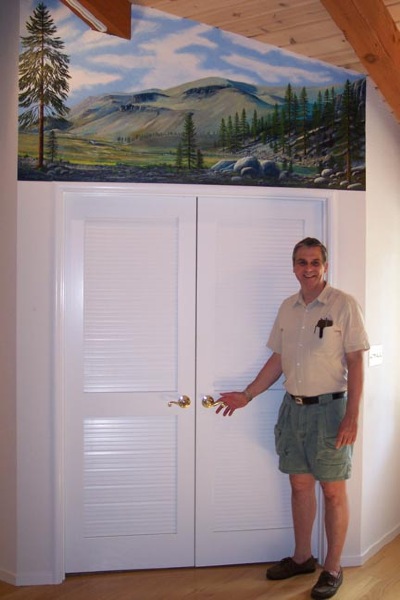 "Kennedy Meadows" is a "site specific" mural of an actual place in the High Sierras. The mural was painted for an unusual shaped portion of wall over an office door. It reminds the owners of their annual horseback hunting trips to Kennedy Meadows at an altitude of about 10,000 feet. Off in the distance there is a riding party with pack horses ascending the trail.

Canvas murals can be cut to fit any shape no matter how irregular. I recommend hiring a professional wallpaper hanger to mount your canvas mural with either permanent or removable adhesive. (in case you move and want to take your mural with you)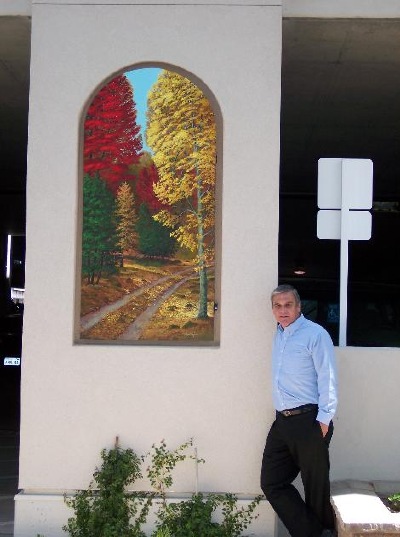 In March of 2009 Frank Wilson was awarded two commissions from Enloe Hopsital in Chico, California. The mural panels are installed in recessed alcoves on the exterior of the parking garage on Magnolia Ave.

The murals measure 3 feet wide and are 6 feet tall.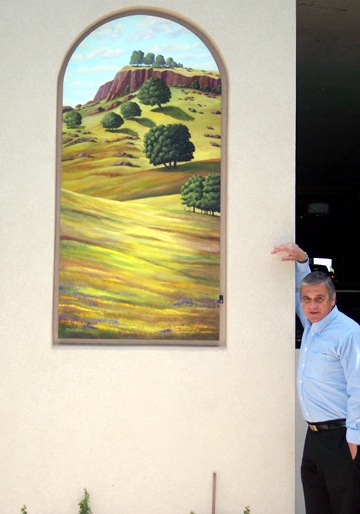 This is the second Enloe Hospital Exterior Mural. The mural panel is based on one of my oil paintings.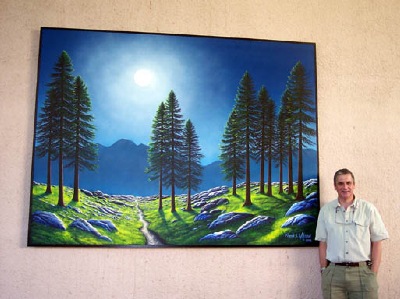 "Mountain Moonglow" is a commissioned mural from the City Of Chico, California and hangs on East Third Street at the corner of Main Street in Downtown Chico. In a competition open to all artists in Northern California, twenty finalists were chosen and given a canvas on which to paint their mural proposal on. Those 20 works were displayed throughout the summer of 2005 for the citizens to vote on which of the twenty they wanted to see as a permanent, mural in their downtown area. Over 8,000 votes were cast and Frank's painting proposal, "Mountain Moonglow" won the "Peoples Choice Award" in 2005. The mural was commissioned by the city of Chico.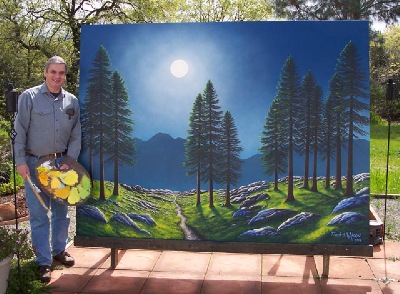 Frank Wilson shown next to his mural Mountain Moonglow on the special easel he built out of 2 x 4's to hold the 180 pound panel. It was just too big to work on in the studio so the artist worked on it outdoors. The large mural brush he is using is one of a pair of brushes that was a gift from his high school art teacher in the 1960's.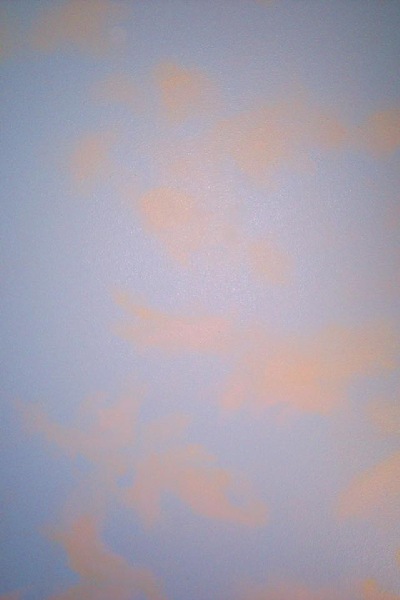 This is a photograph of a canvas ceiling mural that was painted for a child's room with soft looking clouds. At night there are thousands of stars glowing softly along with the majestic Milky Way and the children can learn to identify the Major Constellations on their ceiling! There are also three "shooting stars" for a little excitement! Please see the "Illusions" page for more details about my star murals that can only be seen in the dark!


| | |
| --- | --- |
| | |
| | This mural, Butte Creek Canyon, was created on a 38" x 96" hardboard panel to cover a large window in a home theater. In darkness the horizon softly glows and stars sparkle in the sky portion of the mural. See the "Illusions" page for more details. |

What a beautiful change your mural made in the playroom. The huge doors are now a beautiful piece of art that can be seen from most of the home. Yosemite Dreams is so peaceful to look at. The animals at peace with each other and looking so gentle you feel that you could walk in and pet them. You really understood what I wanted for that room. I can't thank you enough for the very calming effect this has on my children especially my son. When Jesse is having one of his many hard days we can start talking about the mural and the animals and you can visually see him calm down. He will take his blanket and pillow and lay in front of the doors and talk to himself and to the animals and relax. Frank I can't thank you enough for this beautiful mural. I hope you realize how much this means to my children and to me.

Again, Thank You!

Frances, Jesse, Kelly, Hattie, and Maggie



Dear Frank,

I want to let you know what a delight it was working with you during the creation of the "Grand Vista" masterpiece that now adorns my bathroom walls. From our first meeting up until the completion of my project, you have been a pleasure to work with. I am extremely particular when it comes to art and have always had a difficult time selecting pieces to hang in my home. When I saw your work, I knew immediately that I wanted to own one of your pieces. I had toyed with the idea of a mural, but once I set foot in your studio and reviewed the various murals you have painted, I was certain that was the route I wanted to take. It started with a general idea of what I wanted and with your helpful suggestions and viewing your previous artwork my ideal Grand Vista became a reality. I felt incredibly comfortable with you in my home and hardly knew you were here working diligently on my mural. I looked forward to the end of each day when I could see the progress that was made. It was amazing to watch my husband who felt neutral about having a mural painted turn his indifference into true appreciation by the end of the process. Because of you, I now have a gorgeous place to escape to and immerse myself in! I can relax in my tub and surround myself with the beauty you sculpted with each brush stroke. I get so excited each time I get to show it off to someone new. I know it will be marveled at for ages. My children enjoy pointing out their personalized areas and telling the story behind it. Thank you from the bottom of my heart. I look forward to working with you again in the future.

All our best,
Jason & Holly - Chico, CA

Frank & Toni,
Thank you for the wonderful job you did on our STARSCAPES®. It was great having that to look forward to when we got home from our cruise. The first night we didn´t have time to "charge it up" But it was still great! Last night we turned on some lights for a while first and it was brilliant! We are so pleased!
Brent, Michelle, Savannah, Rob, Gabby & Brad - Paradise, CA

Dear Frank and Toni,
"I just wanted to thank you both for your professionalism and the outstanding job you did on our ceilings! I have seen many amazing things during my life time, but this tops it all. I am absolutely astounded that my ceiling looks normal in the light but disappears in the dark to reveal all the stars in the sky above. Thank you again for an amazing job well done!"
Bill D. - Paradise, CA

"We get so much enjoyment from the STARSCAPES® ceilings you did for us but our fun doubles when we have company over. Our guests simply cannot believe their eyes when we show them our STARSCAPES® ceiling! Thanks for doing such a good job!"
A & V - Paradise, CA

"My husband and I just used to kiss each other good night and go to sleep. Now when we go to bed, we talk for hours under our very own stars! Thank you for bringing the romance back into our marriage with your STARSCAPES®!" - Chico, CA

"Wow! This is awesome! Absolutely unbelievable! My son is going to love this! Thank you both!
Josh - Pollack Pines, CA

Do YOU have any ideas for a mural in YOUR home or office? Email: Info@frankwilsonfineart.com