You can purchase custom prints and custom greeting cards of selected paintings on paper or canvas in a wide variety of sizes and finishes to suit your decorating needs! If desired, you can also select from thousands of frames, mats, and wrap combinations and receive your fine art prints within one week! Click here to see the Prints that are available!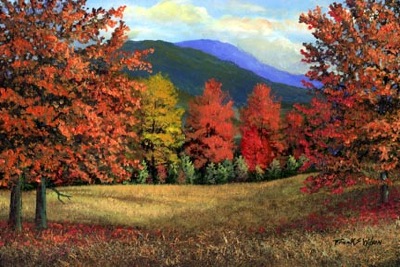 September 2020
One of my paintings, "Misty Autumn", has been published in the NORTHERN WOODLANDS magazine. It illustrates a story by Rob Jagodzinski "A Place in Mind: The Kingdom of October" It can be seen on page 80 of the Autumn 2020 issue of this beautiful quarterly magazine.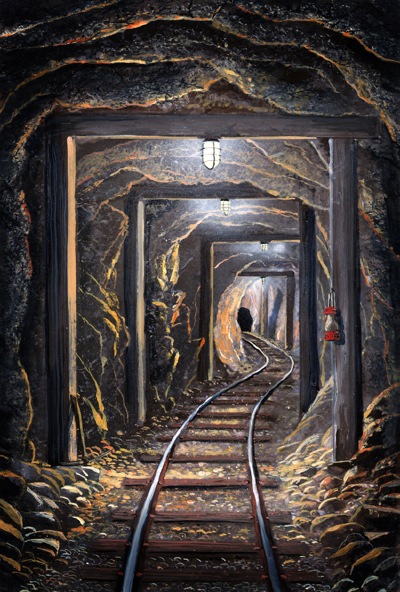 2014 ~ BOOK COVER

My mural, "Mine Shaft", was used as the front cover illustration of a middle school mystery novel, "Coyote-meeter's Abyss", by Robert L. Hunton that will be published in the summer of 2014 and is available at Open Books Press Direct, Barnes & Noble Booksellers, Amazon.com, and at all Independent Book stores.

To license an image of a painting from my website for publication in print or web contact me for rates and licensing information.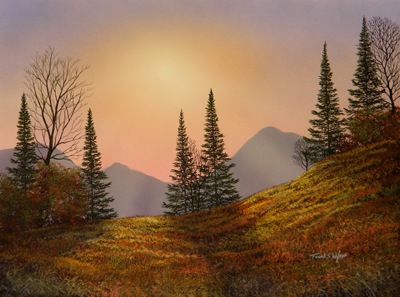 February 16, 2010

FIRST PLACE WINNER and Honorable Mention in an International Competition, the
Turner Colour Works Painting Contest. Only art that was painted with Turner Designer gouache or Turner Acryl Gouache was eligible. "Alpine Sunset" won first place and "Misty Falls" received an Honorable Mention. The winning entry can be seen at TURNER GALLERY


Numerous articles have been written about Frank Wilson's art in newspapers and magazines. He has been interviewed on public radio stations on both coasts and was a featured artist on ABC's nationally televised "GOOD MORNING AMERICA" show which aired October 9, 1998 after two days of taping in his Vermont Studio. Most recently he was on CBS News on Jan. 23, 2009 as seen below.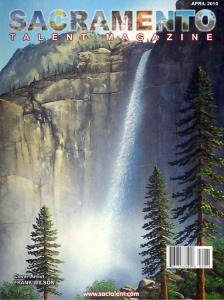 April 7th, 2010 - Sacramento, CA

The April 2010 Issue of Sacramento Talent Magazine is featuring Paradise, California artist Frank Wilson on it's front cover with an additional two page spread on pages 34 & 35.

The magazine said of Franks work;

"Our featured cover artist of this month ~ Frank Wilson, is an artist of unmatched skills when it comes to picturizing nature with his brush and canvas."

"A talented artist, Frank has transformed his paintings from being his profession to an independent medium of expression."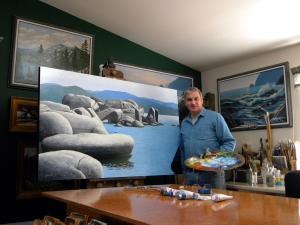 Paradise resident Frank Wilson leads me toward the doorway of his walk-in closet for an artistic "magic trick." The closet is huge: approximately 10 feet by 6 feet, neatly organized, its walls and ceiling painted a pleasing, flat white.

"I invite you to please come in and close the door, then shut off the light," he says very cordially, in his Boston accent.

When I do so, a seemingly impossible scene comes to life in the pitch blackness. All four walls turn into an extremely realistic night sky—the kind one marvels at on the clearest of romantic, summer evenings. Stars by the thousands, of all sizes and groupings, adorn what was previously the plain white interior. Toward the far end of the ceiling a shooting star has left a green, foot-long trail. As three or four minutes pass, the four-foot-long Milky Way galaxy above, itself made of hundreds of stars, becomes clearer and clearer.

"Each decade of age you are causes the eyes [to take] one more minute to see the details," Wilson offers.

This is one of Wilson's "Night Illusions," or "Glow Murals," for which he uses special phosphorous paints and a secret technique that he acquired from a company called Starscapes F/X, which licenses hundreds of official "artist-illusionists" from around the world to install the paintings. A professional artist for 40 years, Wilson has painted his own glowing murals—which are exact replicas of the night sky—in many homes, resorts and hotels since 2000.

As impressive as this format is, the 61-year-old Wilson is perhaps better known locally for his realistic, finely detailed nature settings, some with wild animals and the occasional human. He uses oils and watercolors on hardboard panels instead of canvas to create his paintings, some of which he says have sold for as much as $10,000. His works have been shown in five states, including the New York State Museum, and as far away as Zurich and Geneva, Switzerland, and he was even featured on ABC's Good Morning America back in 1998.

The most prominent acknowledgment of his skills was the invitation by his peers to be a member of the exclusive International Guild of Realism.

Sitting with Toni, his wife of 40 years, in the living room of their immaculately decorated 2,000-square-foot home, Wilson talked about the notice.

"I was shocked when I was accepted because that's one of the most prestigious art guilds in the world," he said.
Opposite images are of a ceiling Miller painted at a Texas Holiday Inn Express demonstrating how the night sky, visible in the dark (right) disappears when the lights are on.

Though Wilson is a life-long painter, he has the demeanor, dress and work ethic of a white-collar businessman. Since 1995, when he began cataloging his work by computer, Wilson has produced 2,900 paintings. Many are also sold reprinted in various formats, such as prints and greeting cards.

"And that's only since I started counting," he said. "I'd been painting professionally for 25 years before that."

He says he produces such high volume because painting is his full-time job.

"I have to be disciplined," he says. "I go into my studio to work, but after the first hour I don't want to put my paint brush down."

He also says that his wife is a huge help in all aspects of his business.

"She's my wife, business partner and my best friend," he says. "Now you know why we've been together for 40 years."

For her part, in addition to helping with business matters and assisting him on projects, Toni says she even lets Frank know if a painting needs improvement.

"I don't want a painting to go out that doesn't look right because I like it when the checks come in," she says with a laugh.

Wilson grew up in the Eastern U.S. and was inspired by a high school art teacher. He received his training at the Art Institute of Boston and moved to Paradise in 2002 after falling in love with the nature and weather here while visiting his son.

"That was a huge career move for me, as I was well-established in the art community back East," he said.

In 2005, his "Mountain Moonglow" mural, featuring tall pines, won the people's choice award for the 2005 Chico Open Board Art (COBA) project, and can be seen hanging downtown on the Third Street side of the building housing Katie's Corner at Third and Main. Wilson also painted two murals on the outside of the new Enloe Hospital parking structure on Magnolia Avenue.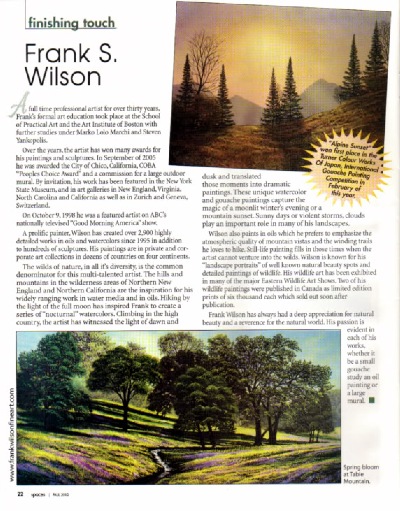 September 29th, 2010 - Paradise, CA

Featured in the fall issue on page 22 of Northern California Spaces Magazine in a 'finishing touch' article is Northern California artist Frank Wilson. The article feature two of the artist's works one of which won first place in February 2010 in the Turner Color Works Of Japan International Gouache Painting Competition. This award winning artist has been written up in many publications over his thirty nine year professional career. He has also been featured on on ABC's nationally televised "Good Morning America" show as well as on local California CBS television news stories. Wilson is available for custom painting commissions, mural both exterior and interior as well as his amazing illusions that can only be seen in total darkness.

Frank Wilson is represented by the following fine art galleries.

Gallery On Merchant's Square, Historic Williamsburg, Virginia
Gallery On The Green, Woodstock, Vermont 'Featuring the Best Of New England'
James Harold Galleries, Tahoe City, Lake Tahoe, California
Gallery Alta Vista, Valle Crucis, North Carolina
Blue Heron Gallery, Burlington, Vermont
Helen Jones Gallery, Sacramento, California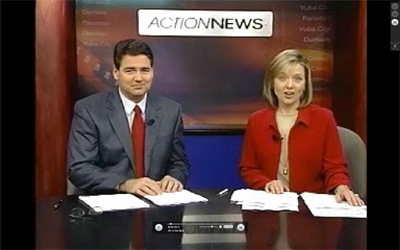 Frank Wilson and his wife were the subject of a news story on CBS's KHSL TV in Chico, California. "Art In The Dark" was a news story reported by: Nitin Lal, CBS Action News that aired on January 23 rd & 24th 2009.


AUGUST 2007

After a review of Frank Wilson's artwork and résumé, the prestigious "International Guild Of Realism" has invited Frank to become a member which he has accepted. The "International Guild Of Realism" is an organization who's mission is to advance realism in fine art through museum exhibitions, art gallery shows, workshops, education programs, marketing support and Internet exposure. Visit the web site for the"International Guild Of Realism" at; http://www.realismguild.com The artists are listed alphabetically on the web site.


This article, "Frank Wilson's Landscapes by Night and Day", written By Dolores Mitchell, appeared in the June issue of "Insideout" magazine that serves Northern California. Article appears in Volume 6 Issue 2 Page 18

"Moonlight Hike" an original gouache painting by Frank Wilson
Frank Wilson's "landscape portraits" capture physical realities while his "landscape memory paintings" express his emotional response to a site. In "Flowering Meadow" he strove for an accurate portrait of a view off Durham Pentz Road near Butte College. He says: "I made several on-location sketches, noting striking features such as the wedge shape of a butte and the profusion of yellow, gold and purple wildflowers. Then I completed the painting in my studio. That year, 2004, experienced unusually abundant rainfall; locals said they'd never seen wild flowers growing so high on the buttes before. I'm a transplant from Vermont to Paradise and such awesome views of canyons, buttes and mountains in this area would take me a thousand lifetimes to capture!"

By contrast, "Moonlight Hike" represents one of Wilson's "memory pictures" from a five-hour hike on the Pacific Crest Trail near Beldon Town. "Just a short way up the path I came upon spectacular views. As I walked, I thought about color combinations, such as combining cobalt and alizarin for shadows, and I considered how to balance triangular trees, winding paths and curving mountains. When I got back to my studio I knew exactly what I wanted to do. I've been developing a photographic memory for decades. That's especially essential for nocturnes that can't be painted on location because of dim light." Examples of Wilson's "landscape portraits" as well as "landscape memory paintings" are now on display at Avenue 9 Gallery in Chico.

Frank Wilson's paintings took on a different look following his move from Vermont to Northern California in 2002. He says: "California light has a Mediterranean quality that posed a challenge for me at first. The vast panoramic scenes were another new experience. In New England I focused on woodland interiors, while in California I work on the 'big picture' from a distant vantage point."

Realist elements in Wilson's art are enriched by a sense of symbolic meaning. Wilson says: "I chose to paint in a realist manner in order to portray what moves me, but I am always aware of spiritual aspects of the wilderness. I feel close to God when I'm immersed in His creation. John Muir expressed in his writings what I try to capture in my art. I am deeply touched when I see the moon rising over the mountains, the power of a waterfall, or the sublime quality of dawn's light as it slowly transforms the landscape. I can't describe these experiences in words so I create images that I hope will move people. Most of my landscapes are thoughtfully composed and orchestrated. My art was described by a critic in one New England newspaper as being 'like the stage set of a theater, where the artist has carefully placed the elements of his landscape to lead the eyes of his viewers down a predetermined path.'"

Wilson's passion for art began in childhood. "A box of crayons and a sheet of paper were my favorite toys. I still have vivid memories of the joy of coloring and drawing. My late father, Lawrence Wilson, worked in Boston for an Italian Sculptor of monumental bronze figures. I was awed by the huge molds for realistic heads and feet and hands that father would bring home. I wanted to create magical objects like that when I grew up. By eighth grade, an unshakeable goal of becoming a professional artist had taken hold of me."

"Dad tried to convince me that a fine arts career was too unstable to pursue. He'd been shocked by a change of taste from realistic to abstract sculpture that had put many artists he knew out of work. I was too stubborn to listen. Father died after my freshman year at the Boston Art Institute and never witnessed my eventual success. Against all advice and common sense, Toni, who has been my wife for 39 years, married me and worked full time to support me as an art student in my senior year. She never had doubts about our future. I warned her that she'd probably be the wife of a starving artist for at least a decade, and that proved to be true."

I asked Wilson how, in his opinion, the current recession was affecting art. He commented: "Throughout the country, many fine art galleries have closed their doors, while others are struggling to stay afloat. The withdrawal of funds for public school art departments will have sorry consequences for decades as generations grow up with a lack of art appreciation that will affect their quality of life.

"Most artists I know are reporting weak sales compared to just a short time ago. How artists will survive will depend on a myriad of factors, including their ability to adapt to a changing market, their tenacity, and the amount of support they have from patrons. Art is, in my estimation, a necessity for a fulfilling life. I have relatives in Italy where even the poorest family saves for an original piece of art to grace their home. It is their national tradition to support the arts. Past civilizations are judged largely by their art. Ancient Greek and Roman architecture and sculpture continues to inspire and awe people today. What other than the visual arts can, without a written word or a sound to our ears, with just a gaze, make us think of the deeper issues of life? Without art our world would quickly become sterile. Art civilizes us."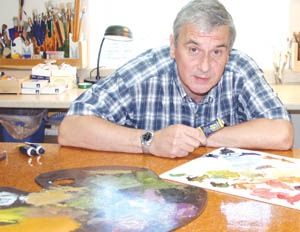 New England transplant finds plenty of artistic inspiration in Paradise.

By Alan Sheckter
Photo by Alan Sheckter
(This article appeared in the Chico News and Review August 7th, 2008)

LIVING COLOR

The life canvases of many artists are awash with boldly colored lifestyles, living quarters and wardrobes. But that doesn't necessarily make them great artists. Paradise painter Frank Wilson, a neatly groomed fellow with a tidy home and nary a spot of paint on his carpeted home studio floor, channels all of his dazzle into his works. And by all reasonable measures, he is a great artist. Wilson, who named Thomas Hill and Maxfield Parrish his greatest influences, is a gifted realist—he's even a card-carrying member of the International Guild of Realism.

His bold colors and sharp lines not only re-create Mother Nature's dazzling vistas, but also instantly demand attention, and respect, from the viewer. For more than 35 years, the Boston-born artist has put brush to canvas on thousands of works. An avid hiker and cross-country skier, especially at night, the 59-year-old Wilson has a special affinity for painting nocturnal landscapes, such as "Mountain Moonglow," a Pacific Crest Trail-inspired work that won the Chico Open Board Art (COBA) People's Choice Award in 2005. "There's something so magical about getting up in the high country at night," Wilson said in his unmistakable New England accent. "When your eyes get acclimated to a full moon, it's like high noon." The son of a renowned sculptor, Wilson began his lifelong artistic journey in high school, where a zealous teacher inspired him to submit what turned into a blue-ribbon entry in an all-New England scholastic art competition. All through his tenure at the Art Institute of Boston, Wilson continued his association with the instructor, soaking up artistic skills, theory and business advice that he said proved more profound than lessons learned at the Art Institute.

Now Wilson presides over what could be considered a small empire of art (he frames and mattes his pieces, and is also a talented muralist). Even after four decades in the business, he retains a childlike fascination with his craft. "It's been a lifelong passion," he said. "What's not to love about being an artist? Before I get to the kitchen for my coffee, I'm at work." Wilson began exhibiting his work as soon as he completed school in 1971, and a few years later set up shop—and home—in the tiny idyllic village of East Topsham, Vt. Wilson's reputation, and ego no doubt, got a big boost in October 1998, when a TV crew from ABC's Good Morning America came to town to film a feature about painting New England autumn foliage.

Wilson's son Adam settled in Paradise 12 years ago, eventually drawing Mom and Dad to build a house in the area and come west in 2002. "We came out to see him and fell in love with Paradise," Wilson said. "We got tired of 40-below weather." Ever since, Wilson has taken advantage of this region's natural beauty, creating series that illustrate places such as the Sutter Buttes, Lake Tahoe, Feather Falls, Table Mountain and the Mendocino Coast.

Toni Wilson plays a key role in the Frank Wilson story. Frank's executive administrator and wife of 38 years, Toni has grown with the artist through thick and thin since his days at the Art Institute. "She ships my artwork to galleries nationwide and keeps track of inventory," he said. "She's my quality-control inspector, does invoicing, billing and orders my custom frames. Without her I would not have time to paint."

Wilson was recently tagged as an archivist when The Doiron Gallery in Sacramento called a Wilson exhibit "California Landscapes—A Preservationist's View." "It was the first time I was ever labeled that way," Wilson said. "I never thought of myself like that—until the fires." Wilson, who evacuated his home twice in two months due to the local fires, has found a new worth to his works. A 2007 series of paintings that show the vibrant beauty of the wildflowers and native bluffs and buttes as viewed from Durham Pentz Road are now a testament of how the landscape looked before it was badly scorched.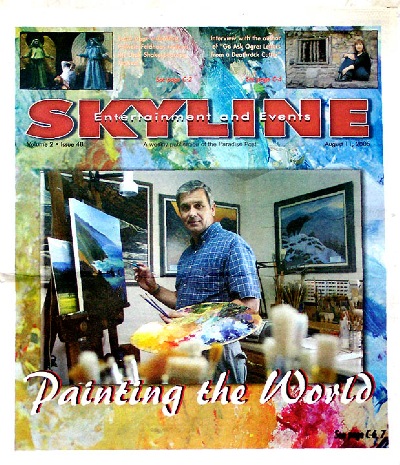 August 11, 2005
This is the cover of the Skyline weekly magazine which is published every Thursday by the Paradise Post in Paradise, California. Wilson was featured in the centerfold two page spread that follows. The colorful graphic that forms the border is a close-up photograph of one of his working pallettes.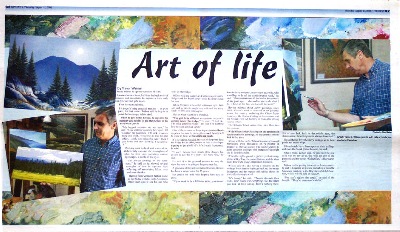 Two page centerfold article in the Skyline Magazine August 11, 2005 published by the Paradise Post. Paradise California.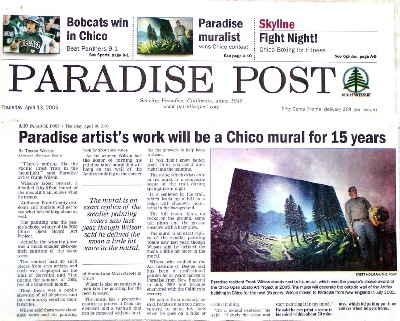 Thursday April 13, 2006

Article in the Paradise Post. Newspaper article details the artist, Frank Wilson, winning the 2005 COBA (Chico Outdoor Board Art) mural competition in Northern California.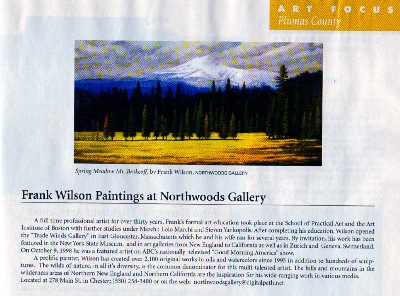 Article in "Guide To The Arts" magazine which cover the arts in Northern California.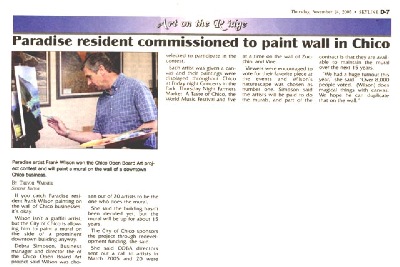 Thursday November 24, 2005
Skyline "Art On The Ridge" featured article Thursday November 24, 2005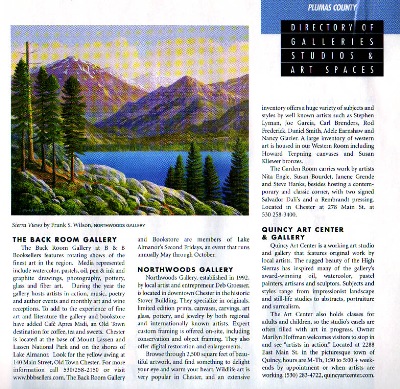 Featured artist in Directory of Galleries in Guide to the Arts page 71 published by Aardvark Publications in the winter 2005 edition.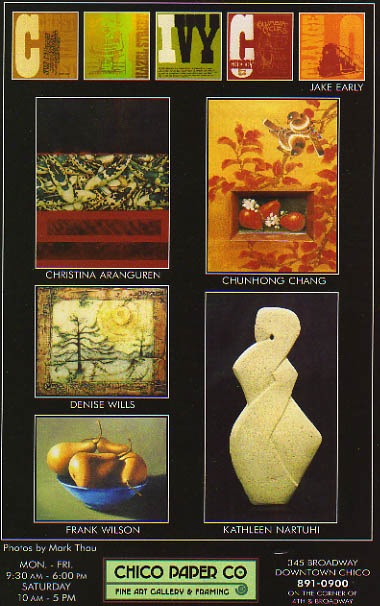 2006
Featured with several other artists in a sponsorship page for the California State University's "Guide to Performaces" at Laxon Auditorium, Chico CA campus. 2006 season.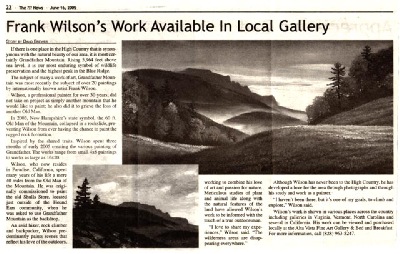 June 16, 2005
Watauga Democrat newpaper article in Boone, North Carolina about Frank Wilson's oil paintings series of a local attraction, Grand-Father Mountain, featured at Gallery Alta Vista in Valle Crucis, NC.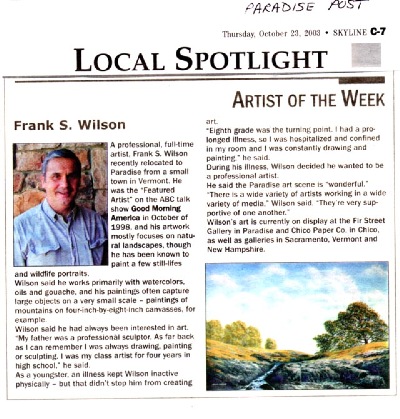 Thursday October 23, 2003
Paradise Post Skyline magazine.
Local Spotlight Artist Of the Week.

Saturday, July 17th 2004
Paradise Post,
Painting featured "FOUR PEARS IN BLUE BOWL"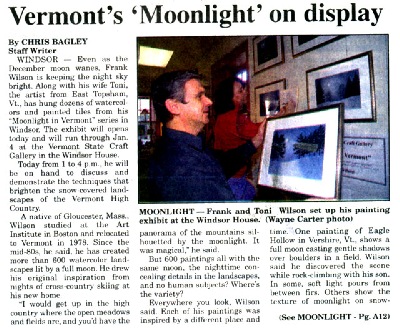 Sunday December 9th, 2001
Sunday Eagle Times that serves the Twin State Valley between Vermont and New Hampshire. Front page article on a special, month long exhibit entitled "Moonlight In Vermont" featuring the nocturnal works of Frank Wilson in oils watercolors and ceramic tile. This article was continued with more pictures and text on page A16 as shown below.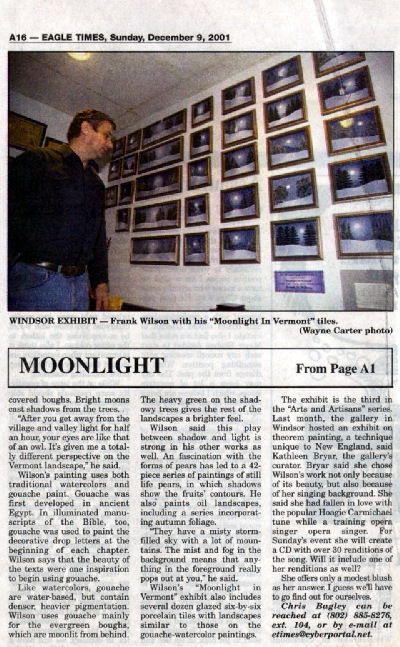 This is a continuation of the front page article shown above.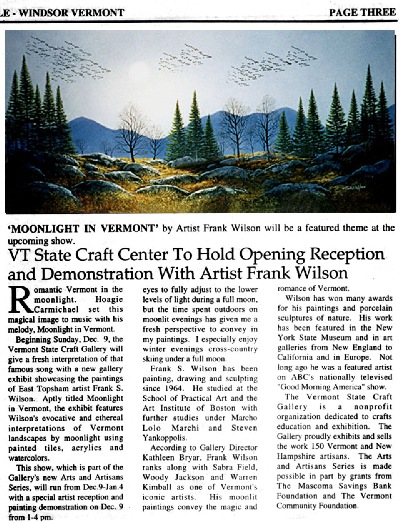 Thursday December 6, 2001

Windsor Chronicle, Windsor Vermont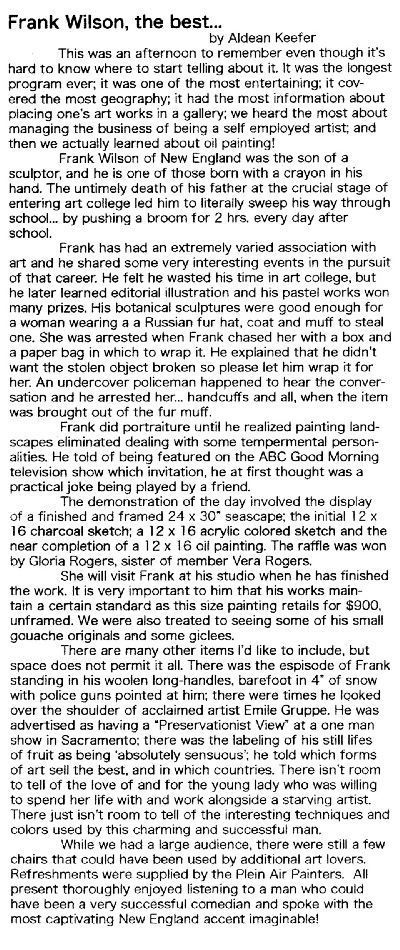 March/April 2007
Paradise Art Center Newsletter Review written by Aldean Keefer of a live painting demonstration and lecture given by Frank Wilson on February 18th 2007 at the Paradise Art Center

More articles will be forthcoming as I go through my archives and scan the articles.